Get a Head Start on Spring With Winter Gardening Tips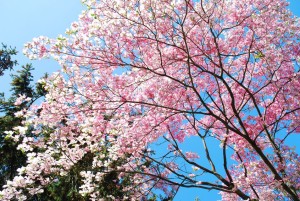 As a gardener, you know that it doesn't matter all that much whether Phil sees his shadow or not; there are still a few weeks until you'll be able to dig in your garden. That doesn't mean you're forced to sit on your hands until April. There are plenty of gardening tips that can be utilized in late winter to get your spring garden prepped and care for indoor plants:
Create a little spring inside. If you're a bit tired of winter's blustery days and long to see some color, forcing the bloom on some branches might help you endure to the end. Take some clippers out to your yard and take a few forsythia, dogwood, cherry or magnolia branches for display in your home. Watch the branches bud and bloom into color in a warm room and you'll enjoy the reminder that spring is just around the corner.
Get your seeds started indoors. You may have ordered your seeds in January, and it's finally time to begin planting a few. You'll need to check the germination time and compare that to when your last frost hits each spring. Onions, leeks, chives and pansies are among the longest for germination, so you will want to begin with these first.
Prune branches damaged over the past year. This is a good time to head outside and examine branches on ornamental and fruit trees and shrubs. Prune damaged branches to avoid affecting any new buds that might grow in spring. This is a good time to prune, because you can easily see any damage and cut away the affected branches. Also, spring growth allows the tree or shrub to heal easily after a late-winter pruning.
Take care of indoor plants. Your indoor plants may also need pruning, and this is the perfect time for fertilizing indoor plants that may have gone into dormancy over the winter. Every two weeks, add fertilizer to the soil to give them an extra boost as they head into their most active growing season. With daylight hours increasing, your indoor plants will also be waking up in a less dramatic fashion.
Check over stored bulbs. If you've been storing some bulbs indoors, now is a good time to get them out and check for any mold or damage. After they've been checked, you can put them back away for a few more weeks. When it's time for the bustle of planting, you'll be glad you took this important step ahead of time.
Get organized with high-quality garden tools. One of the best gardening tips for late winter is to invest in something that will make your garden more enjoyable. Purchase a set of plant markers for a more organized flower bed, or invest in a shovel or trowel that will last for decades.
Go ahead and treat yourself. Sometimes the last few weeks of winter are the hardest. If you are weary of cold weather and need a little pick-me-up, visit your local florist and choose a flowering indoor plant or a few branches of pussy willow. Even a bouquet of tulips from the grocery store will brighten up a room and help you endure the weather for a few more weeks.
Purchasing Kincaid Plant Markers in late winter helps ensure that your garden is organized and ready for planting in the spring. Take a look at our full selection of plant markers, then tour our site for gardening tips and other resources.