In a garden club or organization?
"Grow Your Rewards" with Kincaid Gardens
When you find a plant marker you love, you want to share it with your fellow garden enthusiasts. Kincaid Plant Markers Grow Your Rewards program makes that easy – and offers you special pricing as a member! Start using garden stakes that you'll truly love … and save money alongside your garden club! View printable Grow your Rewards Application (pdf format).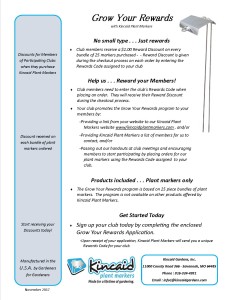 It's easy to participate and save on bundles of Kincaid Plant Markers:
1. View and print the Grow Your Rewards Brochure  (pdf format). You can view or print this for sharing more information about the program with your club or organization.
2. Print and return the Grow your Rewards Application(pdf format)
3. Then share the word to start saving. Your club can promote the Grow Your Rewards program to your members by providing a link from your website to our Kincaid Gardens website, and/or Providing Kincaid Gardens a list of members for us to contact, and /or passing out our handouts at club meetings and have at least two members start participating by placing orders for our plant tags using the Rewards Code assigned to your club. Note: The Grow Your Rewards program is based on 25 piece bundles of plant markers.  The program is not available on other products offered by Kincaid Gardens.
"Our garden club has been using these markers for several years at public gardens. They last longer than other markers we have used and we have received favorable comments from visitors to the gardens. Several members have begun using them in their own gardens." – Kincaid Grow Your Rewards club customer