It's true. People are talking about Kincaid Plant Markers because they're the best plant makers available. They're strong, easy to view, and the labels stay put. You can order or print custom labels for your garden. They're rust-resistant and won't corrode, no matter what you put them through.
Our plant stakes are so strong because they're engineered with a custom design you won't find anywhere else. That's one reason you'll see find Kincaid Plant Markers at top gardens like Powell Gardens, Kansas City's botanical garden, and the Better Homes & Gardens Test Garden in Des Moines, Iowa. Read about us!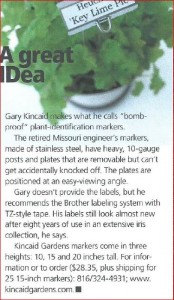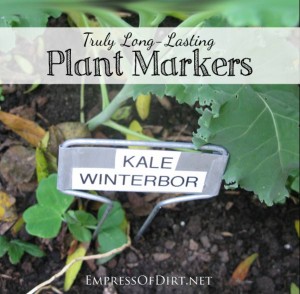 Midwest Living magazine, August 2007 – "Gary Kincaid makes what he calls 'bomb-proof' plant identification markers …" Read more.
Empress Of Dirt, Jan. 2014 – "If you are looking for a durable, reliable plant marker and label system, this may be the answer.  Both the markers and adhesive labels will endure the seasons indefinitely and, dare I say, they may outlast us all."
Hornbaker Gardens, March 2011 – "A couple of years ago, we discovered a new stainless steel plant marker made by Kincaid Gardens, and this marker is the only one we now use.  The stakes that go in the ground are three times as thick as normal stakes, and being stainless steel, they will last for years and years….."
Globe Gazette, 2010 – "One of the most vexing garden problems is keeping track of the names of plants … But the clear winner in my little trial is the stainless steel plant marker from Kincaid Gardens … These are not your ordinary plant markers. Tired of losing track of plants, Gary Kincaid of Savannah, Mo., invented these to label his own iris collection. The extra-heavy, 10-gauge posts don't bend or twist. The stainless steel resists rust, oxidation and corrosion. There's an extra-large surface for plant identification information. Best of all, Gary designed his markers with a "captive" plate that can't fall off, no matter what."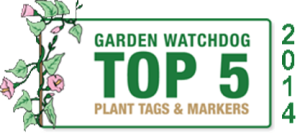 Customer Comments:
"I have nearly 100 roses in my garden. They were planted by my dad and many lacked identification as to variety. although it took time and research, I've been able to identify each and these labels will provide a long term identification of them."
"Stakes are nice and sturdy, and plates go on and off easily, but are completely stable in the garden. And I love the way the stainless steel sparkles and shines in the sunlight."
"High quality stainless steel. Sturdy. Edges of actual label surface are smooth. Easy to assemble. When used with right size labeling tape (I used 3/4″" wide), easy read when standing up looking down at label."
"Love that they are only 6″ long. Love that they are stainless steel as stronger and no rust. I will know after a winter if they are still in place and readable."
"Stainless Steel will never rust. Look great in the flower beds. My good friend Dan White has been using these for years and they still look brand new."
"This is my 2nd order of these plant markers. I can't say enough GOOD about them. They're very durable. The labels stick well and the best part for me? They're DOBERMAN STOMP PROOF! Every other label got bent/worn/mangled. These hold up to anything."
Contact Us:
Questions? Give us a call, or an email! We're here to answer questions and help you as you use our markers and labels, and we're proud that they are "Made for a lifetime of gardening."
Gary and Jeff Kincaid Phone: 816-324-4931
E-mail: info1@kincaidgardens.com
Address: Kincaid Gardens Inc 11000 County Road 366 Savannah, MO 64485-2312
Join the conversation with us on social media so we can share ideas and information: