Winter Doesn't Have to be Boring With Creative Landscaping Ideas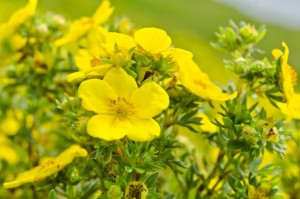 It's hard not to feel a tinge of sadness amid the excitement as a lush green summer gives way to fall's explosion of color. The changing leaves are beautiful, but there's the knowledge that bare trees and dull lawns will shortly follow. With a few new landscaping ideas, your winter garden doesn't have to be spent simply waiting for spring to arrive.
Many of your plants, trees and grasses will grow dormant, but there are some species that are ideal choices for keeping your winter garden vibrant and other ideas for helping you enjoy the view out your window this winter:
Try new, winter-friendly landscaping ideas. You're often limited to evergreens for enjoying color during the winter, but there are a few plants that you can choose for your garden that will bring color to your landscape in the winter. There are several varieties of the Lenten Rose, which is a flowering perennial that blooms from January until March. Its stem makes a nice winter bouquet if you cauterize the stem to prevent sap from flowing.
You can also plant an unusual conifer tree called Techny Gold that has gold foliage and only becomes more intense with color during the winter months. If conifers don't appeal to you, try a Colored-twig Dogwood, which can produce bright yellow, orange or red stems that are visually appealing against a largely colorless backdrop.
Add a colorful container. Brighten up your landscaping with some brightly colored containers and add your favorite winter plants. Many ornamental grasses, like Carex Toffee Twist or fountain grass are beautiful even in dormancy. You can also add small conifers to containers, choosing small varieties like False Cypress and Juniper that can be tucked in anywhere you need a spot of color.
Depending on where you live, you may also be able to add in some flowering plants that thrive in the winter, such as the Pansy or Primrose. Some edible plants make nice winter additions too, like Kale or Swiss Chard.
Entice animals to come and play. Birds are particularly good at livening up your winter garden. Provide a water source with a heated dog bowl to attract birds. Get creative with sticks or rocks to prevent the birds from bathing in the water, which can be dangerous for them in cold weather. You can also freeze cranberries into a mold to provide a treat for your feathered visitors. If you live in a rural area, put a salt lick out for deer or make a corncob available for chipmunks.
A winter garden doesn't have to be bleak and boring. The right plants and a few colored pots, plus a way to attract animals can make your winter garden fun. You may find that with some clever landscaping ideas, you feel a little excited about the coming winter.
Take the opportunity to label your winter garden with Kincaid Plant Markers. Designed for use year after year, Kincaid Plant Markers are made for a lifetime of gardening.