Welcome to Kincaid Plant Markers — truly "Made for a lifetime of gardening."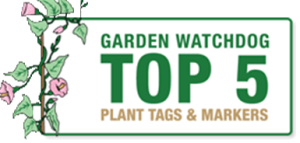 Organize your plants once with the best quality markers, and spend the rest of your time enjoying your garden.
We've helped thousands of serious garden enthusiasts organize, remember and share their gardens with Kincaid Plant Markers – the only metal garden marker company that offers 100% stainless steel markers.
Our Signature and Collector series markers are different because they won't rust or wear down, no matter the season or climate. They're the sturdiest, most reliable garden markers available, featured in sites like Powell Gardens (Kansas City's botanical garden) and the Better Homes & Gardens Test Garden in Iowa.
Kincaid Plant Markers are available in six styles with different plate viewing angles, and we also offer Brother label printers and label tapes for convenient, hassle-free labeling.  We have a plant marker to meet the needs of every gardener…and budget.
We offer gift certificates as well, and printed labels that are ready for you to apply.  We're dedicated at every phase of the product, from our original crafted design to hand-packing within one business day.
Located in the rolling hills of northwest Missouri, Kincaid Plant Markers is family-owned and our plant markers are made in the USA.  Thank you for visiting, and if you have any questions, please give us a call or an email to visit about our products and what's right for you.  We're here to serve so you can truly enjoy your garden!